Description
WHAT DO I GET?
Your  scores are privately kept inside the Virtual Horse Sport website, where no one can gain access unless you show them.  Your video, you can control whether it is to be kept private or allowed on the public review board .
The ride will be judged and given improvement tips by one of the USEF Licensed Dressage Judges . 
USEF NOTE AND REGULATION
These are coaching rides, the same as a clinic.  You can not show in front of your judge/coach at a on-site show for 90 days after getting coaching, as in any clinic or personal training. 
AVAILABLE JUDGES
Choose your coach on your entry form or let VHS choose one for you.  All available judges can be seen here (pop up page).
AVAILABLE TESTS TO RIDE
CHOOSE YOUR TESTS AFTER YOUR PURCHASE.
You will be able to choose which tests you would like to ride, in online entry form.  Those forms, one for each ride, are found in your profile, after your purchased.
Para Dressage Tests Grade I
Para Dressage Tests Grade II
Para Dressage Tests Grade V
Para Dressage Tests Grade IV
Para Dressage Tests Grade III
HOW TO FILM YOUR RIDE
See our step by step guide and support section. 
STEP 1 : WHERE TO FILM YOUR RIDE

Take a Video on your mobile phone, tablet or video camera
We recommend 3 different position:  At the letter C is best.  Natural light where the ride is fully visible at all times. 
STEP 2 : WHERE IS THE SUN?
 Natural light where the ride is fully visible at all times.   Think Day Time
Point the camera away from the sun.  Even if that means moving to the opposite end of the arena. Say at letters M or H.
STEP 3: HOW TO POSITION YOUR PHONE
Video should be taken in Landscape not Portrait. 
BAD ANGLE : PORTRAIT
GOOD ANGLE : LANDSCAPE
STEP 4: REVIEW - EXAMPLES OF GOOD & BAD QUALITY VIDEO
In order for the judge to see you ride and give you the best possible evaluation, use these pictures as guides of good quality and poor quality video.  Always do a test run, taking some video of the arena and reviewing it, before you ride.
GOOD QUALITY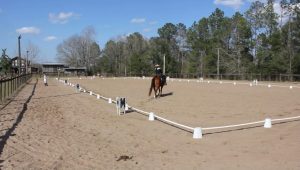 Taken with a iPhone 6
POOR QUALITY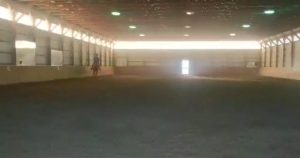 STEP 5: HOLD UP YOUR SIGN!
To keep all the videos organized and to assure that a video has been recorded for this particular event. The person taking the video should hold up a sign in front of the phone or camera, indicating your name, horse name, date and test to be ridden.   Below is example.  Nothing fancy….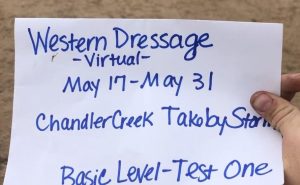 HOW DO I UPLOAD MY VIDEO?
After purchasing your entry, you will get 2 emails.  BOTH email contain a link in which you can fill out your entry form AND Upload your video to the system.   If you never received your emails, look in your spam folder.  Still a problem?  Write us at: virtualhorsesport@gmail.com We can guide you through the process.
1. Purchase your video ride
2. You will then receive a receipt in your account email box.
3. Click on the link to gain access to your online entry form.
4. 3 ways to upload video from your entry form
a) Direct on Website (500 MB of less file size)
b) YouTube Link
c) Virtual Horse Sport provided Google Drop Box
5. When completed, you will receive another email indicating your ride has been judged and is online ready to read. 
RULES
Test coaching is not a online horse show.  
You will not be placed.
We do recommend that you film your ride from the letter C, however with coaching, multiple locations are acceptable.
Poor quality video may be requested to be repeated.  Judges preference.
LIMITATIONS & DISCLAIMER
Once entry with video is submitted, purchases are  non-refundable.
DISCLAIMER: Riding horses is a dangerous and subjective sport that can cause critical bodily injury and even death to themselves or other's observing. All horse back riding and participation is done at the riders own risk.  Minors, under the age of 18, MUST gain approval and permission of their guardians/parents.  Rider's using this service and the parents/guardians of minors using this online service,  acknowledge this risk and shall hold harmless: All Show Sponsors, VirtualHorseSport.com and it's parent company, Multimedia Designs, LLC, from any injuries or losses resulting participating in the events and services on this page. Persons under the age of 18, need to gain parental or guardian approval PRIOR entering any show.