Description
MAKE SURE TO FILM YOUR SIGN AND AT THE RIGHT LOCATION
Intro  Test 1, Test 2, Test 3
Training Level : Test 1, Test 2, Test 3
1st Level: Test 1, Test 2, Test 3
2nd Level: Test 1, Test 2, Test 3
3rd Level : Test 1, Test 2, Test 3
4th  Level: Test 1, Test 2, Test 3
NATIONAL FREESTYLES
Training Level
1st Level
2nd Level
3rd Level
4th Level
FEI
Prix St. George
Intermediate I
Intermediate II
Grand Prix
Grand Prix Special
USEF 4 year old dressage test
FEI Dressage Test for 4-year old horses
FEI Dressage Test for 5-year old horses
FEI Dressage Test for 6-year old horses
FEI Dressage Test for 7-year old horses
Dressage Sport Horse Prospects (Under Saddle)
Dressage Sport Horse Group Class
Dressage Seat Equitation
Materiale 3 year old Fillies
Materiale 3-year old Colts and Geldings
Materiale 4-5 year old Mares
Materiale 4-5 year old Stallions and Geldings
FEI Preliminary Competition A Children
FEI Preliminary Competition B Children
FEI Preliminary Competition Juniors
FEI Preliminary Competition Young Riders
2019 USEF Developing Horse Prix St. George

JUMPING WITH DRESSAGE
2020 Prix Caprilli Test 2
2020 Prix Caprilli Test 3
EVENTING DRESSAGE TESTS
Beginner Novice: Test A | Test B
Novice: Test A
Training: Test A
Modified: Test A 
Preliminary: Test A
Intermediate: Test A
Advanced: Test A
FEI EVENTING DRESSAGE TESTS
One-Star: Test
Two-Star: Test A | Test B
Three-Star: Test A | Test B
Four-Star: Test A | Test B
Five-Star: Test A | Test B
WESTERN DRESSAGE
2019 Intro: Test 1, Test 2, Test 3, Test 4
2019 Basic: Test 1, Test 2, Test 3, Test 4
2019 Level 1 : Test 1, Test 2, Test 3, Test 4
2019 Level 2: Test 1, Test 2, Test 3, Test 4
2019 Level 3: Test 1, Test 2, Test 3, Test 4
2019 Level 4: Test 1, Test 2, Test 3, Test 4
2019 Exceptional Rider Leadline A
2019 Exceptional Rider Leadline B
2019 Exceptional Rider Coached Walk Only
WHAT DO I GET?
Your  scores are privately kept inside the Virtual Horse Sport website, where no one can gain access unless you show them.  Your video, you can control whether it is to be kept private or allowed on the public scoreboard. 
The ride will be judged and given improvement tips by one of the USEF Licensed Dressage Judges . 
You have the option of requesting that the video NOT be displayed publicly.
HOW TO FILM YOUR RIDE
Filming your ride is extremely important.  That film is the only tool the judge has to giving you correct scores and feedback.  But filming does not have to be complicated!  Your iPhone, Android phone, iPad or Tablet with a camera, is more than acceptable for filming your ride.   

Arena size should be a close approximation for online competitions.  If you can not get that, make notes on your entry form. 
Follow the Step by Step guideline and get the most out of your ride. 
STEP 1 : WHERE TO FILM YOUR RIDE

Take a Video on your mobile phone, tablet or video camera
We recommend 3 different position:  At the letter C is best.  But slightly to the left or right of C is acceptable. Natural light  or a very brightly lite indoor arena, where the ride is fully visible at all times.  See example below.
STEP 2 : WHERE IS THE SUN?
 Natural light where the ride is fully visible at all times.  
Point the camera away from the sun.  Even if that means moving to the opposite end of the arena. Say at letters M or H.
STEP 3: HOW TO POSITION YOUR PHONE
Video should be taken in Landscape not Portrait. 
BAD ANGLE : PORTRAIT
GOOD ANGLE : LANDSCAPE
STEP 4: REVIEW - EXAMPLES OF GOOD & BAD QUALITY VIDEO
In order for the judge to see you ride and give you the best possible evaluation, use these pictures as guides of good quality and poor quality video.  Always do a test run, taking some video of the arena and reviewing it, before you ride.
GOOD QUALITY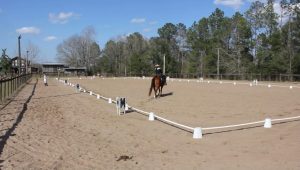 Taken with a iPhone 6
POOR QUALITY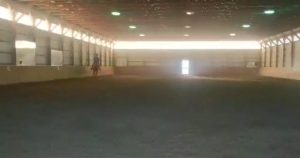 STEP 5: HOLD UP YOUR SIGN!
To keep all the videos organized and to assure that a video has been recorded for this particular event. The person taking the video should hold up a sign in front of the phone or camera, indicating your name, horse name, date and test to be ridden.   Below is example.  Nothing fancy….
STEP 6: BOTH SIDES OF THE ARENA!
6. HOLD THE ZOOM!
A little zoom is ok, especially when the rider appears very small, yet remember judges only have the video to see the accuracy of the ride.  If  you zoom in, that perspective is lost. The best score they can give you is a 5, when both sides of the arena can not bee seen.
HOW DO I UPLOAD MY VIDEO?
After purchasing your entry, you will get 2 emails.  BOTH email contain a link in which you can fill out your entry form AND Upload your video to the system.   If you never received your emails, look in your spam folder.  Still a problem?  Write us at: virtualhorsesport@gmail.com We can guide you through the process.
1. Purchase your video ride
2. You will then receive a receipt in your account email box.
3. Click on the link to gain access to your online entry form.
4. 4 ways to upload video from your entry form
a) Direct on Website (500 MB of less file size) via entry form
b) YouTube or Vimeo Link via entry form
c) Virtual Horse Sport Google Drop via entry form
d) Virtual Horse Sport provided Google Drop Box Link (by request)
5. When completed, you will receive another email indicating your ride has been judged and is online ready to read. 
LIMITATIONS & DISCLAIMER
Once entry form has been filled out and submitted, purchases are non-refundable.
Same ride can not be submitted twice to VirtualHorseSport.com.  If we detect that a ride was used in a previous event or coaching, we shall ask you to submit another video.
Purchases may be applied to a different show or coaching, IF it is found your horse is off prior to video submission and before the end of the show. Email us if you have a question: office@virtualhorsesport.com 
If the purchaser of a ride, does not submit an entry with video, that is viewable, by the end of the purchased show, or does not request a deferment to another show prior to the end of the purchased show, the fees charged will be forfeited to Virtual Horse Sport.  There are no refunds. 
All rides are schooling shows unless otherwise specifically noted, such as chapter or club shows.
These shows are NOT a USEF/USDF Sanctioned event. The scores may not be used for points, medals, team rankings or championships.
DISCLAIMER:

Riding horses is a dangerous and subjective sport that can cause critical bodily injury and even death.  User's of this online service acknowledge this risk and shall hold harmless: All Show Sponsors, VirtualHorseSport.com and it's parent company, Multimedia Designs, LLC, from any injuries or losses resulting participating in the events and services on this site: VirtualHorseSport.com

Persons under the age of 18, need to gain parental or guardian approval PRIOR entering any show.  For further details, please see our Terms Of Use Page.